Time & Mind Management, with Jamie, on The Happy Lawyer Podcast
---
by Jamie Spannhake
September 19, 2020
---

Catherine Shearer interviewed me for her podcast! My favorite question was "Tell me what The Lawyer, the Lion, & the Laundry is all about." That's my favorite topic, but I always find it challenging to answer the question concisely because, to me, my book is about all of life and how to live our best life. 
But, I did offer a concise answer that I think sums it up quite well. Basically, that it's my synthesis of years of research and trial & error to share a practical time management and mind management strategy that helps readers handle their busy lives without feeling overwhelmed and exhausted. In other words, I did all the work and wrote it into a book that you can read and implement in only 3 HOURS!
My other favorite part of the discussion (though it's hard to choose favorites because I enjoyed the entire discussion!) was our conversation about how Catherine used the tools in my book to realize that she was setting herself up to fail by trying to do more in a week than is possible. This was our discussion of my 168 Hours Exercise, where I guide readers to assess all they are trying to do in a week, to quantify the time it will take to achieve all those things, and add it up. If it will take more than 168 hours (which is the number of hours in a week), then you've set yourself up for failure. No matter how hard you work, you will fail because you set the bar at IMPOSSIBLE. At that point, you have choices to make so that you can achieve all that you desire, but within the reality of time. We discuss those choices and how to achieve more while doing less in the conversation, and I go more in-depth in my book. 
As you know, the book (and the podcast discussion) is not only for lawyers. It's for anyone who is trying to balance or integrate competing responsibilities in her life, whether that be career and family, family and self-care, or something else. 
You can listen to the 35-minute interview, available wherever you listen to podcasts, and at Catherine's podcast site, and below.
Here's her notes about the episode:
On this episode of The Happy Lawyer Podcast I chat with Jamie Spannhake about:
Her journey from big law in Manhattan to being partner in a small firm
The importance of personal values when choosing a career path
How she juggles all of her many roles in life and work
How to avoid overburdening ourselves
Her personal story overcoming clinical anxiety
An inside look at her book The Lawyer, The Lion & The Laundry
Thanks, Catherine, for the opportunity. It was fun!
Let's connect and grow together: Click Here and you'll get my E-Guide The No. 1 Habit, for FREE!
Special Discount on My Bestselling Book: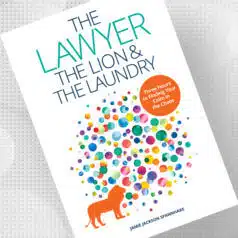 Use code"calm" at checkout. Limited time offer.