Don't Problem-Solve Like a Bug!
---
Can't get out through a window? Look for a door. Read about better problem-solving skills.
by Jamie Spannhake
June 21, 2020
---

I was watching a bug desperately buzzing to try to get out through the glass of my open window yesterday. The window was OPEN. The bug was on the outside of my house. My window cranks open and he was trying to fly through the glass, to no avail. All the bug needed to do was fly about 2 inches under the window glass or 4 inches to the side of the glass. Freedom was so close, but the bug couldn't see the way out because it was only focused on the problem -- the glass.
This made me start thinking about how we sometimes approach our problems. We try and try to find a solution, looking repeatedly at the problem. We fail to look around us, where a solution might be easily available. Sometimes we fail to stop and contemplate, which would give us the time to see that there are other solutions that we have overlooked.
I like to think that I'm smarter than a bug, but, honestly, sometimes I'm not. Here's what I want to keep in mind -- that I learned from the bug -- next time I'm faced with a problem. 
1. Breathe. Nothing good comes from attacking a problem without first being calm and centered. I know that a daily meditation practice helps me stay calm and centered. It allows me to be able to act in any given situation, mindfully, rather than reacting (and sometimes over-reacting) mindlessly in ways that sometimes make things worse, not better.
Related Content: Pretend You Are Someone Else to Solve Your Problems
2. Be Open. I want to acknowledge the problem, then thoughtfully consider solutions to the problem. When I try a solution, and it doesn't work, I want to remember to look around, to keep my eyes open for opportunities and for helpers. I don't want to be like the bug, just banging my head against the glass wall, never looking right, left, up, or down, to see if there is a better way.
Related Content: Five Ways to Manage Difficult Transitions
3. Get creative. When things are not going well, and the problem is still looming large in front of me, I want to remember to stop and consider alternative, creative solutions. Maybe I can work with the "problem" instead of fixing it; maybe it's not a problem at all. Maybe there are completely different ways to look at the issue. Maybe if I wait, the problem will resolve it self. 
Life is full of challenges, but we can handle them when we face them mindfully, are open to all solutions, and engage in creative problem-solving.
Special Discount on My Bestselling Book: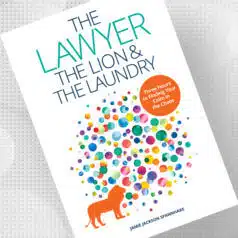 Use code"calm" at checkout. Limited time offer.