Using Creativity to Feel Good Again
---
I'm giving myself a Creativity Challenge: I am going to create something every day between now and Christmas Eve. Join me!
by Jamie Spannhake
November 29, 2020
---

I don't know about you, but the social isolation and uncertainty seems amplified now that we are heading into the holiday season. Thanksgiving dinner with only one other adult and one child, and the prospect of Christmas being the same, is not ideal. Sure, I am grateful to have my immediate family for our small and comfortable celebration, but anticipating how different these occasions will be is causing much less excitement than usual.
The time between Thanksgiving and Christmas is usually a time of joy and excitement for me. We celebrate both holidays, so there is usually lots of good food, time with good friends, shopping for gifts that I know my loved ones will really like, and planning a trip to spend time with extended family. This year, we are not doing most of that. 
It's making me sad. I still have so much for which to be grateful, but I am longing for the togetherness and joy that seem to be missing this year as we face another lockdown and school has gone virtual for the remainder of the calendar year. 
This got me thinking: what is something I can do to make myself feel better.
Related Content: Five Ways to Combat Apathy and Feel Good Again
Normally, exercise is a big part of my feel-better plan. But, I sprained my ankle, so I can't run or play tennis or even do yoga (except for on the floor).
Related Content: Unhappiness Hit a High: 5 Things We Can Do About It
Another activity that always makes me feel better is being creative -- actually "creating" something.
What is creativity?
Being "creative" means creating something new and of value. Creativity is about doing meaningful and fulfilling activities. It starts with curiosity. 
Famed psychologist, Mihaly Csikszentmihalyi, who first identified the mental state of flow, wrote the book Creativity: Flow and the Psychology of Discovery and Invention. He describes creativity as, "a central source of meaning in our lives … most of the things that are interesting, important, and human are the results of creativity … [and] when we are involved in it, we feel that we are living more fully than during the rest of life."
This is precisely why being creative -- creating something new and of value -- makes me feel better. Prior to being a lawyer, I was in musical theatre. I spent most of my time creating by dancing, singing, and acting. I was also an art major, and spent time painting, drawing, and hand-building with clay. Now, I write. But many days, I don't "create" anything. And that is making me sad.
Getting Creative.
I'm giving myself a Creativity Challenge: I am going to create something every day between now and Christmas Eve. These are some of my ideas:
-cooking
-writing
-drawing or coloring
-baking
-making graphics
-making videos
-taking photos
-knitting (I have to learn)
-writing poetry
-arts & crafts
-making jewelry
What ideas do you have? Will you join me? Let's get creative together!
Let's connect and transform our lives together: Click Here.
Special Discount on My Bestselling Book: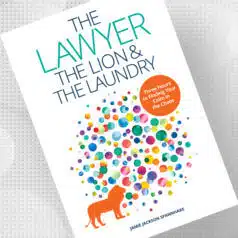 Use code "calm" at checkout. Limited time offer.