Regular price
Thought Book - Introductory sample
---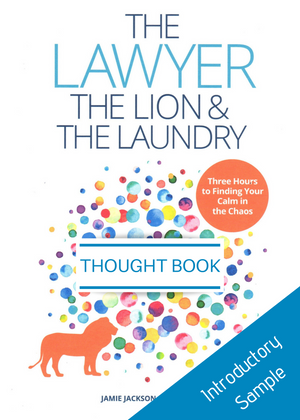 Regular price
Thought Book - Introductory sample
---
Enjoy as an introductory sample the first 5 thought exercise of the pre-book Thought Book. With this Thought Book, you can begin your journey to the life you desire  before you you begin reading The Lawyer, the Lion, & the Laundry: Three Hours to Finding Your Calm in the Chaos, by Jamie Jackson Spannhake. 
The full Thought Book (available as a downloadable PDF) will guide you through 45 thought exercises to help you connect with yourself, your desires, your likes and dislikes, and more. All you need is an open mind, your memory and imagination, and the willingness to have some fun. When you continue your journey by reading The Lawyer, the Lion, & the Laundry , you will be ready to learn and immediately implement the choices, actions, and thoughts to having the life you truly want.
After your purchase is complete, digital file will be available for download on the checkout page 

and

 a link for download will be sent to you via email.