Regular price
Sale price
$40.00
The Lawyer, the Lion, & the Laundry Bundle: Journal & daily Practice Cards
---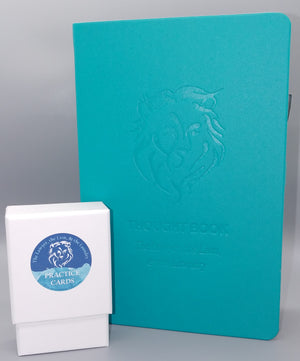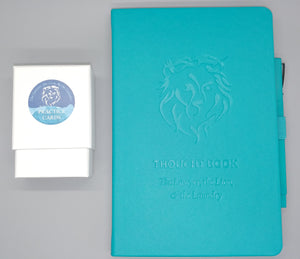 Regular price
Sale price
$40.00
The Lawyer, the Lion, & the Laundry Bundle: Journal & daily Practice Cards
---
SAVE $10 when you purchase both the bound Journal and daily Practice Cards. 
Journals include 96 sheets (192 pages) of white, lined notebook paper for hours of writing.
Fasten these faux leather journals shut with the featured elastic closure.
Store a variety of different items within an expandable accordion pocket.
Designed with a ribbon page marker and an integrated pen loop.
Include a square-barreled ballpoint pen with a removable cap.
Pens have a medium-point nib that writes in black ink.
Size: 8-1/2" x 5-5/8" x 13/16".
The daily Practice Cards deck contains 9 cards in each of 3 categories -- CHOOSE, ACT & THINK - plus 3 PRACTICE cards to calm the mind, 3 guidance cards, and 3 About cards. The cards are designed to give you ideas to consider, try, and practice each day. Pick a card randomly, follow the deck sequentially, or decide what you'd like to practice and choose purposefully. Post the card, or keep it in your wallet as a reminder throughout the day. Comes in white craft box for storage and display.
36 cards 
Cards are 

3.3" x 2.16"